What is the Carbon Disclosure Project (CDP) Framework?
For organizations seeking to build robust environmental, social, and governance (ESG) programs, the Carbon Disclosure Project (CDP) provides one such framework that can help with global disclosure of your environmental impact. Should you choose to adhere to this standard, you would need to be assessed, after which you would receive scores regarding your environmental stewardship.
ESG is becoming more and more important, both in terms of protecting the planet on a global scale and as a market differentiator for organizations to distinguish themselves from competitors. For those seeking to improve and assess your ESG, you have different options.
To help you understand more about one in particular, in this article, we'll overview the CDP framework and the related scores, why they matter, and how your organization will benefit from both publishing and improving your scores.
Maybe this is the right sustainability framework for your organization or maybe it isn't, but with these details, you'll know whether you should keep exploring your options.
Why Does ESG Matter?
While climate disclosure has conceptually been in the works for many years, everything became a bit more real in March 2022 when the SEC proposed a set of new rules requiring companies to disclose climate-related data to investors and stakeholders.
Built off standardized disclosure frameworks and methods like the Task Force on Climate-Related Financial Disclosures (TCFD), the SEC's long-awaited Climate Disclosure Rule is now anticipated to be finalized in October 2023 and is expected to take a phased approach in requiring companies to report on various categories of greenhouse gas (GHG) emissions and their climate change management as aligned with the Taskforce for Climate-related Financial Disclosures (TCFD).
Whether your organization is in the first group required to report your emissions or one of the last, reporting requirements are coming, which means you'll need a framework to help.
What is the Carbon Disclosure Project?
A non-profit organization, the CDP offers one such disclosure system for organizations, investors, governments, etc. to report climate impacts. Typically, participation is based on your public listing in one or more international stock markets, or a client makes a request asking you—as part of its supply chain—to align with their climate goals.
Should that become you, here's how it would work:
On an annual basis, your organization would submit relevant data to the CDP, which uses these responses to their climate change questionnaires as a point-in-time evaluation of your climate change disclosure and performance.

This "relevant data" would be your responses to the CDP questionnaire that draws on the World Resources Institute's GHG Protocol and its definition of in-scope (applicable) emissions. The CDP questionnaire also aligns with all relevant TCFD questions, across all TCFD elements and with the same industry-specific questions.
It's not required that you report on all three of CDP's Scopes, but it is recommended that you do if the emissions are significant, as you'll get a more comprehensive view of your GHG emissions and further demonstrate your commitment to addressing your carbon footprint and environmental responsibilities.

Based on those submissions, you'll then receive an A through F grade regarding your impacts on climate, water security, and/or deforestation.
CDP Submission Criteria
As we mentioned, you don't have to report emissions for every single Scope, but here's what you need to know about what classifies as each:
| | Scope Type | Description | Example |
| --- | --- | --- | --- |
| Scope 1 | Direct Emissions | Direct GHG emissions that are a result of business operations owned and operated by your organization. | The combustion of fossil fuels at a company-owned and operated facility or by your fleet of vehicles. |
| Scope 2 | Indirect Emissions | Indirect GHG emissions from the use of energy to power business operations. | The heating, cooling, or energy used to power operations. (Often referred to as the "purchased energy" of your organization.) |
| Scope 3 | Indirect Emissions | Other related GHG emissions that are not produced or controlled by your organization but are a result of activities from up or down your supply chain. | The electricity needed to manufacture a component, ingredient, or product by a supplier. |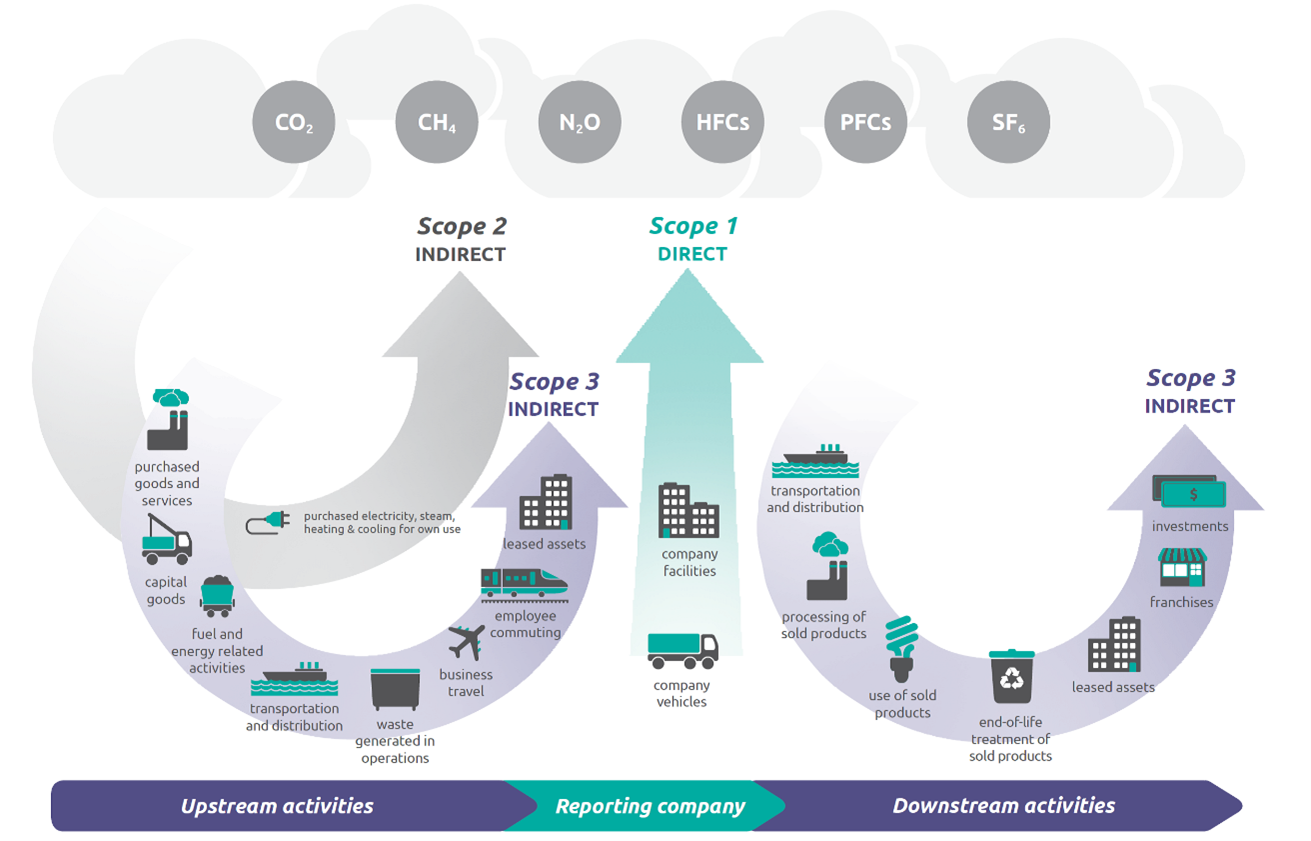 CDP Criteria for Scoring
Whatever you opt to submit, your resulting CDP score will range from D- to A*, each of which corresponds to different stages of progress—achieving an A score indicates optimal transparency (in any or each of the categories of climate change, deforestation, or water security performance).
Your score will be calculated using methodology that aligns with industry standards like TCFD and will provide a comparable dataset across the market—see below for a breakdown of each and how they're determined:
Disclosure Stage
(D-/D score)

Though every question in the questionnaires is scored for disclosure, to score a D over a D-, you'll need to disclose a more extensive set of information.

* This score should be considered just a starting point for organizations that want to demonstrate that they have begun their environmental journey.

Awareness Stage
(C-/C score)

A C-/C score indicates awareness-level engagement, or how much you understand the way environmental issues intersect with your business, and how your operations affect people and ecosystems.

To earn a C over a C-, you'll need to demonstrate a better level of awareness.

Management Stage
(B-/B score)

To receive a B score indicates you have good environmental management, e.g., that you've addressed the environmental impacts of your business.

If you receive a B- rather than a B, your organization shows some evidence of managing your environmental impact, but you haven't undertaken any distinguishing actions.

Leadership Stage
(A score)

Earning an A score means you've demonstrated environmental leadership through the use of best practices in strategy and action as recognized by frameworks such as the TCFD, Accountability Framework, and others—that includes actions such as:

Setting science-based targets (SBT),
Creating a climate transition plan,
Developing water-related risk assessment strategies, or
Reporting on deforestation impact for all relevant operations, supply chains, and commodities.
*You could also receive an F—the lowest of all scores—should you be requested to disclose and fail to do so.
How to Improve Your CDP Scores (and Why It Matters)
Because it takes logical steps to gauge the maturity of an organization's carbon impacts, the CDP's scores offer transparent insight into your environmental impact and disclosure practices. One score alone will help your organization and stakeholders understand your position in a sustainable future, but by consistently disclosing and scoring year after year, you can track your environmental journey and progression over time.
The pinnacle, of course, is an A, but how can you achieve that? We suggest the following basic methods to increase your score:
Increased board engagement
Increased engagement with suppliers
A transition plan that is SBT-aligned
Third-party assurance of your ESG practices
Efforts—through these things and others—to improve your organization's impacts on climate change, forests, and water security, will, in turn, increase your score, making you more attractive to investors, reputable to customers, and, most importantly, a better contributor to the overall health of the environment.
Moving Forward with the CDP Disclosure System
As the world takes steps towards building a climate-safe, deforestation-free, and water-secure future, ambitious corporate action is more crucial than ever. As the world's most comprehensive dataset regarding impact in those areas, disclosure through CDP both provides the bedrock and tracks global progress towards building a truly sustainable economy for both people and planet.
Beyond this, reporting your environmental data through CDP enables you to boost your competitive advantage, uncover risks and opportunities, and track and benchmark progress. In a world where mandatory disclosure is gaining momentum, disclosing through CDP can also help you get ahead of regulation—including the new SEC climate disclosure rules.
To further your preparation, you may be looking for a trusted partner. Schellman's suite of ESG services can support the aforementioned third-party assurance needs to help improve your CDP scores, and we also offer SBT Gap Assessments and various other compliance and reporting services—for more details, reach out to our team.
In the meantime, read our other content that can help streamline any increased ESG efforts:
About Kate Weber
Kate Weber is a Senior Manager over New Services with Schellman based in Chicago, IL. Prior to joining Schellman in 2023, Kate worked in consulting for 5+ years in the IT security and data analytics spaces. While focused on IT security, Kate specialized in Sarbanes-Oxley (SOX) 404 internal audits, ISO 27001 internal audits, HITRUST readiness, and SOC reporting. Kate is a Certified Information Systems Auditor (CISA), ISO 27001 Lead Implementer, and ISO 9001 Lead Implementer. She also previously held the HITRUST Certified CSF Practitioner (CCSFP) and Certified HITRUST Quality Professional (CHQP) certifications.