What is the California Climate Corporate Accountability Act?
A new landmark in corporate climate change legislation, California Senate Bill (SB) 253, the Climate Corporate Accountability Act, has just been passed in the California Senate, and—now that it's been signed into law by the governor—it will mandate that the applicable companies report their direct greenhouse gas emissions as well as those generated by their utilities.
Though this new law is just the latest milestone, climate change regulation has taken other big steps in 2023, with the new SEC Climate Disclosure being another. As things have really started moving in this space, our emerging Environmental, Social, and Governance (ESG) practice has kept tabs on the developments, and now we're going to deconstruct this one.
In this article, we'll further explain what the Climate Corporate Accountability Act is, its impact, its requirements, and how it compares to the new SEC Climate rule. You may be affected by this new law and not even know it, but having read this, you'll have a baseline understanding should you indeed fall under the Act's purview.
The Impact of California Senate Bill 253
How this new climate regulation came to be is a familiar story that parallels California's development of its data security and privacy laws. Back when the federal government was discussing and debating breach reporting and privacy, California led the way for relevant legislation and passed the California Database Breach Notification Act (formerly Senate Bill 1386) and the California Consumer Privacy Act (CCPA), respectively.
Such moves made for a huge shakeup in the digital business landscape, because, as the country's most populous state, California represents just over 14% of the US economy—if it were a country, it would be the 5th largest economy in the world, playing host some of the largest companies in the world, from Apple to Tesla, and numerous other tech and consumer brands.
All that to say, when California enacts laws that impact corporations who want to do business in the state, it punches above its weight—the same is true with California's new Climate Corporate Accountability Act.
Under the law, affected companies will be mandated to report their:
Direct greenhouse gas emissions (Scope 1);
Emissions generated by their utilities (Scope 2); and
Indirect emissions from upstream and downstream value chains (Scope 3).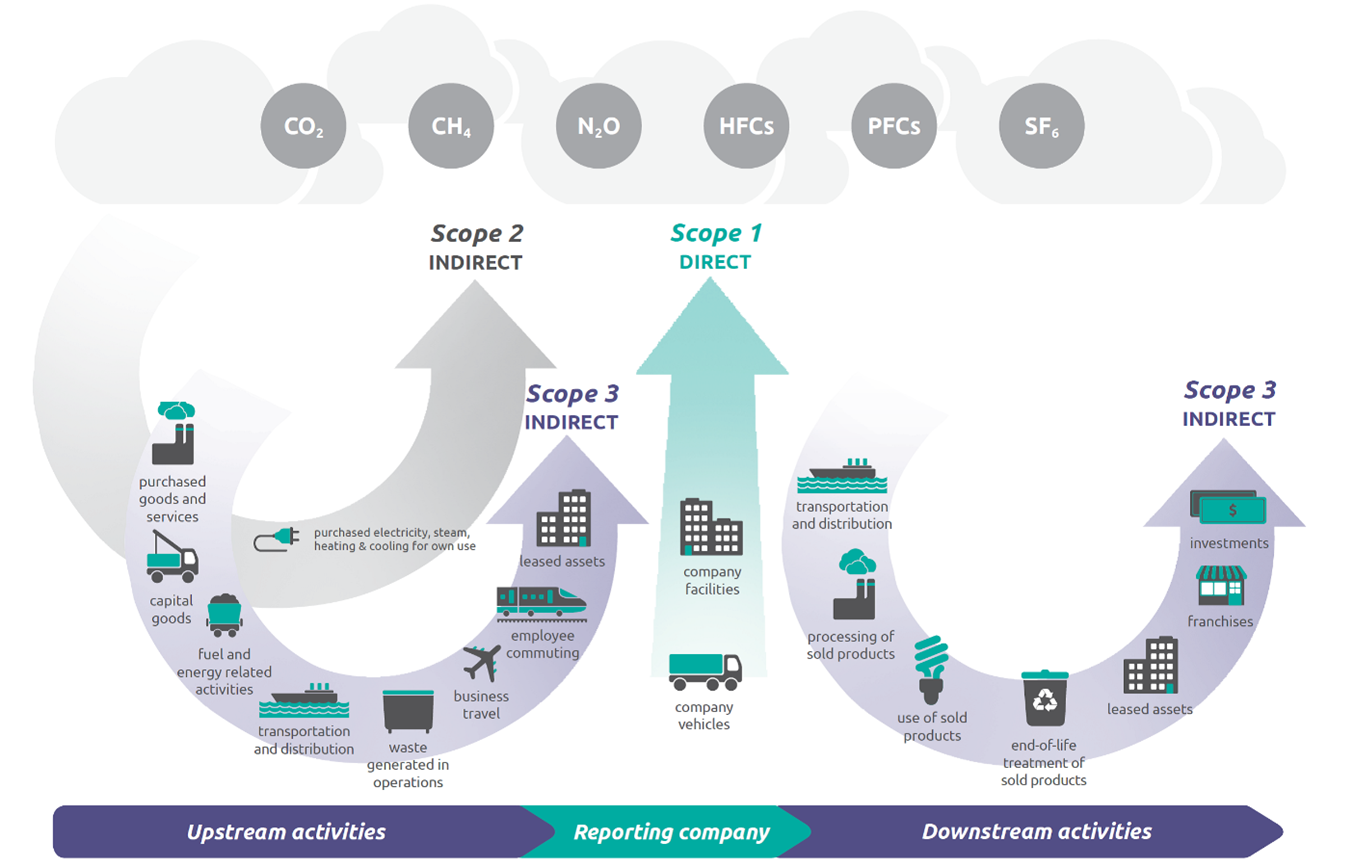 And, whereas California's new climate change bill puts requirements on businesses making over $1b in annual revenues and doing business in the Golden State, its reach will be beyond that, as it's estimated that this new law will impact about 5,300 companies, of which 73% are private.
What are the Requirements of the California Climate Corporate Accountability Act?
So what should these companies prepare for? Here's a summary of the basic yet important mandates of the law:
Applicability

This law applies to companies, both private and public, with more than $1 billion in annual revenue.

Governing Body

Submissions should be made to the California Air Resources Board.

Standards for Use

You can use the GHG Protocol of the World Resources Institute or the World Business Council for Sustainable Development when determining your emissions.

Reporting Timeline

Scope 1 and 2:

If you fall in the applicable category based on your financial performance in 2025, you'll need to begin reporting in 2026

Scope 3:

The same companies reporting Scope 1 & 2 emissions in 2026 will need to include Scope 3 emissions in 2027.

Independent Assurance Timeline

You'll need to have a third party complete a validation of your emissions reporting. For:

Scope 1 and 2:

Limited assurance will be required for Scope 1 and 2 emissions from 2026
Reasonable assurance will be required for Scope 1 & 2 emissions from 2030.

Scope 3:

Limited assurance beginning in 2030

Independent Assurance Third-Party Protocol

When engaging a third party to provide the required assurance—or double-checking—of your emissions reporting, that "provider shall have significant experience in measuring, analyzing, reporting, or attesting to the emission of greenhouse gasses and sufficient competence and capabilities necessary to perform engagements in accordance with professional standards and applicable legal and regulatory requirements."

Potential Penalties

Scope 1 and 2:

Not to exceed $500,000 in a reporting year for non-filing, late filing, or other failure to meet the requirements, considering past and present compliance and good faith measures

Scope 3:

No penalties for Scope 3 misstatements that were made with reasonable efforts and in good faith.

Penalties will only be imposed for non-filing between 2027 and 2030.
California Climate Corporate Accountability Act vs. the SEC Climate Disclosure Rule
As companies prepare to fulfill these requirements, they may also eventually need to accommodate the proposed SEC Climate Disclosure rules. Though both regulations represent steps forward in climate accountability, there are some key differences between them that affected organizations should be aware of:
Difference

Details

Applicability

Currently Proposed SEC Climate Disclosure Rules: Impacts U.S.-domiciled public companies.

California Climate Corporate Accountability Act: Impacts both public and private companies who must also report on their indirect emissions that are generated upstream (in their supply chains) and downstream (by their products or services) after they are sold. (These emissions are reported as Scope 3 as defined by the Greenhouse Gas Protocol.)

Scope 3 Emissions Reporting

Currently Proposed SEC Climate Disclosure Rules: Only mandates Scope 3 reporting where these are material, or related to a company's targets.

California Climate Corporate Accountability Act: Does not place a de minimis threshold on Scope 3 emissions, meaning that all of Scope 3's 15 categories are subject to reporting.

Climate Risk Reporting

Currently Proposed SEC Climate Disclosure Rules: Requires reporting of climate risk.

California Climate Corporate Accountability Act: Will not require companies to report their climate risk (but only because companies subject to this law will also be subject to the Climate-Related Financial Risk Act (SB 261)*, which will cover this obligation.

*SB 261 will apply to the same impacted companies as the new Act, and more as well because its revenue threshold will be just $500m. As with the SEC Climate Disclosure rules, this requirement for reporting climate risk will be based on the Taskforce on Climate-related Financial Disclosures (TCFD).
Preparing for Compliance with the California Climate Corporate Accountability Act
Now that Governor Newsom has signed the California Climate Corporate Accountability Act into law, affected organizations will need to quickly get their ducks in a row before reporting becomes mandatory.
For those who either know or are still uncertain about how this regulation will affect them, Schellman can offer our support in several ways to clarify things and help you get organized:
If you're already measuring some of your GHG emissions, we can review your emissions inventory and the maturity of your climate management against the GHG Protocol.
In preparation for the independent assurance requirement, we can offer Pre-Assurance of your inventory, subjecting you to the same rigor as a full assurance but for the benefit of your internal stakeholders.
After assessing you, we can prepare a roadmap and milestones towards timely compliance.
We can also support your internal teams through training, workshop facilitation, and executive learning to build capacity and plan for future resourcing.
To learn more about this new law and the potential value and versatility that comes with a partnership with us, contact us today.
About Tom Andresen Gosselin
Tom Andresen Gosselin is Schellman's ESG & Sustainability Practice Director and is responsible for ESG Assessment, Assurance, and Certification Services in all regions. Tom is an experienced assurance practitioner, having acted as Lead Verifier of sustainability reports across five continents for some of the world's most recognizable brands. He has also developed innovative assurance protocols addressing global environmental challenges such as ocean-harvested plastics and circularity, cattle ranching and deforestation in the Amazon, and human rights in coltan mining. Tom has worked continuously in ESG for over 25 years and in 4 countries but has settled down in Atlanta with his 2 sons and a dog.