It's not so much the case now, but for decades, malls were enormous buildings where you could pick up any number of products all under the same roof. It made things convenient, being able to find different kinds of clothing to suit you but also grab skincare products, the latest tech, and specialty gifts—in one spot.
The concept of a one-stop-shop also exists when it comes to compliance. Like the shopping malls in your town, these firms can make your procurement process easier when it comes to your desired audits.
Especially if you're in the market for multiple, diverse services. There's only one firm to deal with in terms of contracts, you might have some crossover in teams across assessments, and generally, there's a better chance for efficiency.
Schellman, of course, is one of these organizations capable of delivering many services under one compliance umbrella. And while we hope you'll consider us in your search too, we recognize that we aren't the only firm with this kind of opportunity.
That's why we want to highlight two other options you have if you're looking for an assessor that can wear multiple hats for you.
It may seem crazy that we've aggregated this information here—you might be asking, why are you advertising for your competitors? It's because we understand that every organization is different, and everyone wants to find the right fit. If you find yours in compliance—even if it isn't Schellman—that's our job done.
So, what follows is a high-level overview of three firms—including us—that are likely to be able to provide the array of compliance services you need.
But securing a provider isn't enough. You need to find the best one for your organization, which you can only do through more extensive conversations. But this information will, at the very least, help you get started in building your knowledge base of potential vendors.
Compliance is complex enough. You need someone to help you through it. If not Schellman, here are two other firms that also provide many different services in the IT audit realm.
An Introductory Comparison of Single-Provider Cybersecurity Firms
Aside from Schellman, two other firms that also take the "single provider for many services" are Coalfire and A-LIGN.
Coalfire
2001

10 locations

1,000+ employees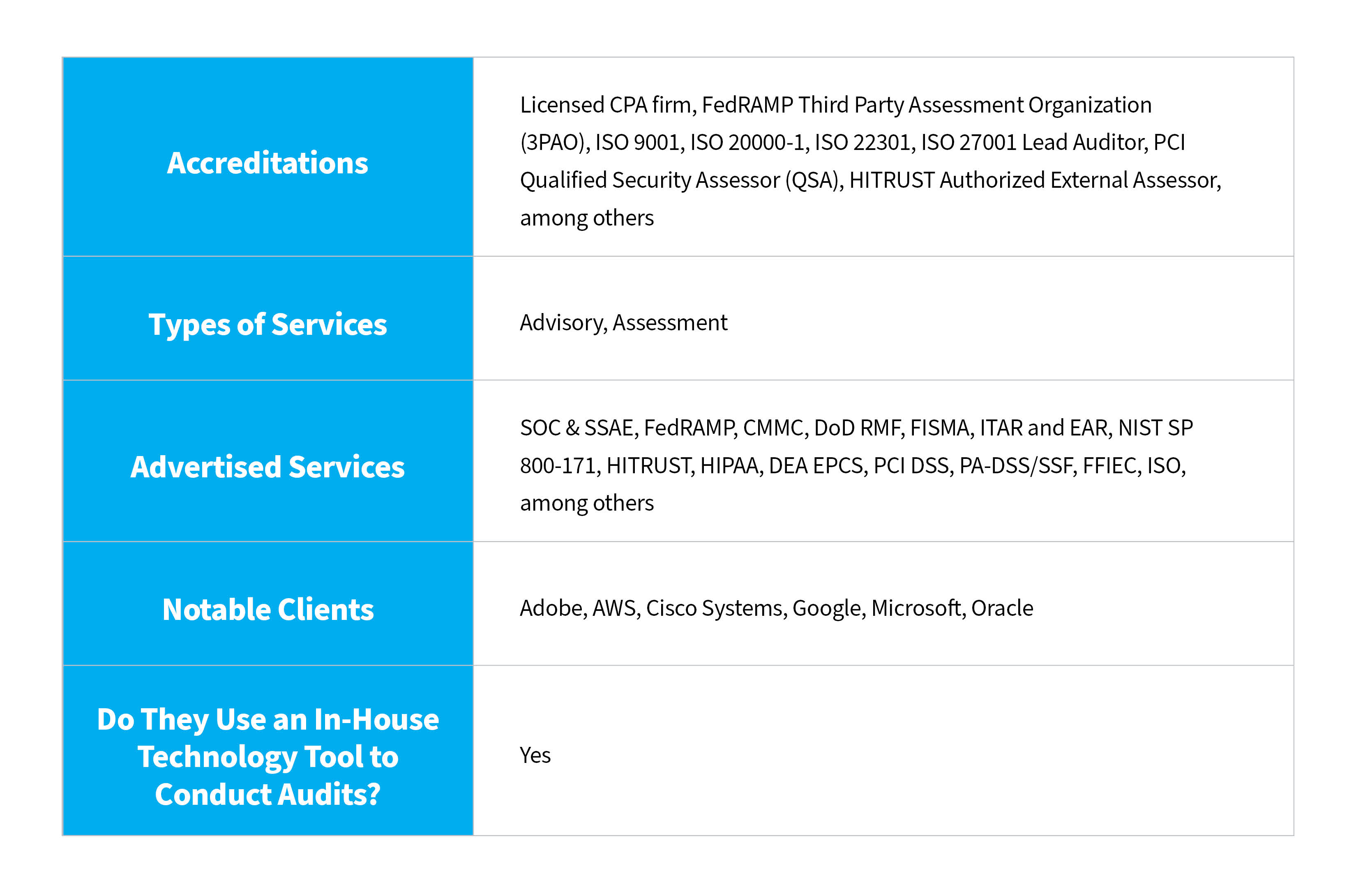 Coalfire works with 1,800+ clients across various industries, including 8 of the top 10 SaaS providers. As noted on the FedRAMP Marketplace, they are the #1 provider of FedRAMP services among 3PAOs to date.
A-LIGN
2009

3 locations

500+ employees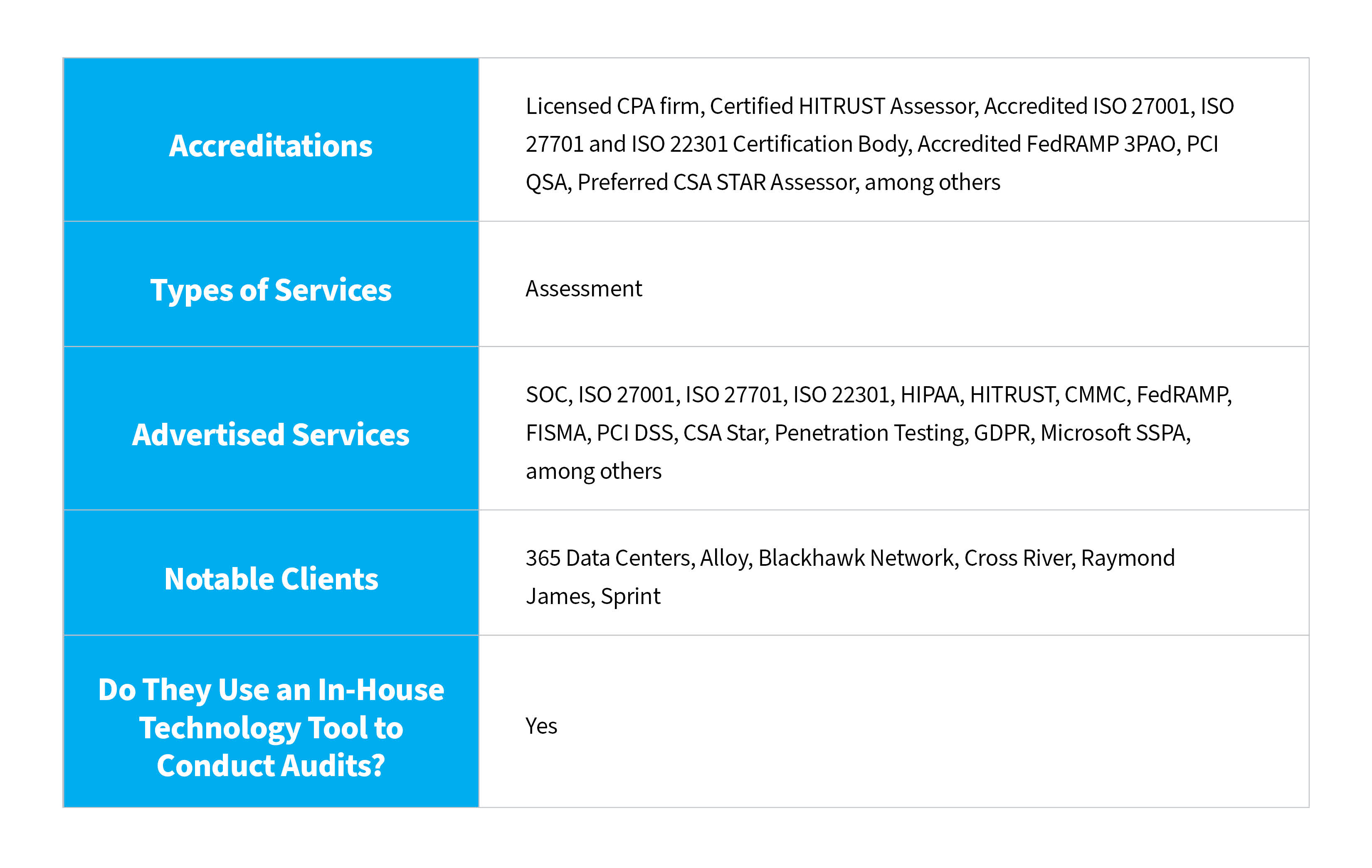 Like Schellman, A-LIGN is based in Tampa, Florida. They serve 2,500+ clients globally and have completed 11,600+ audits to date.
Schellman
2002

1 physical headquarters, employees work from home around the USA

400+ employees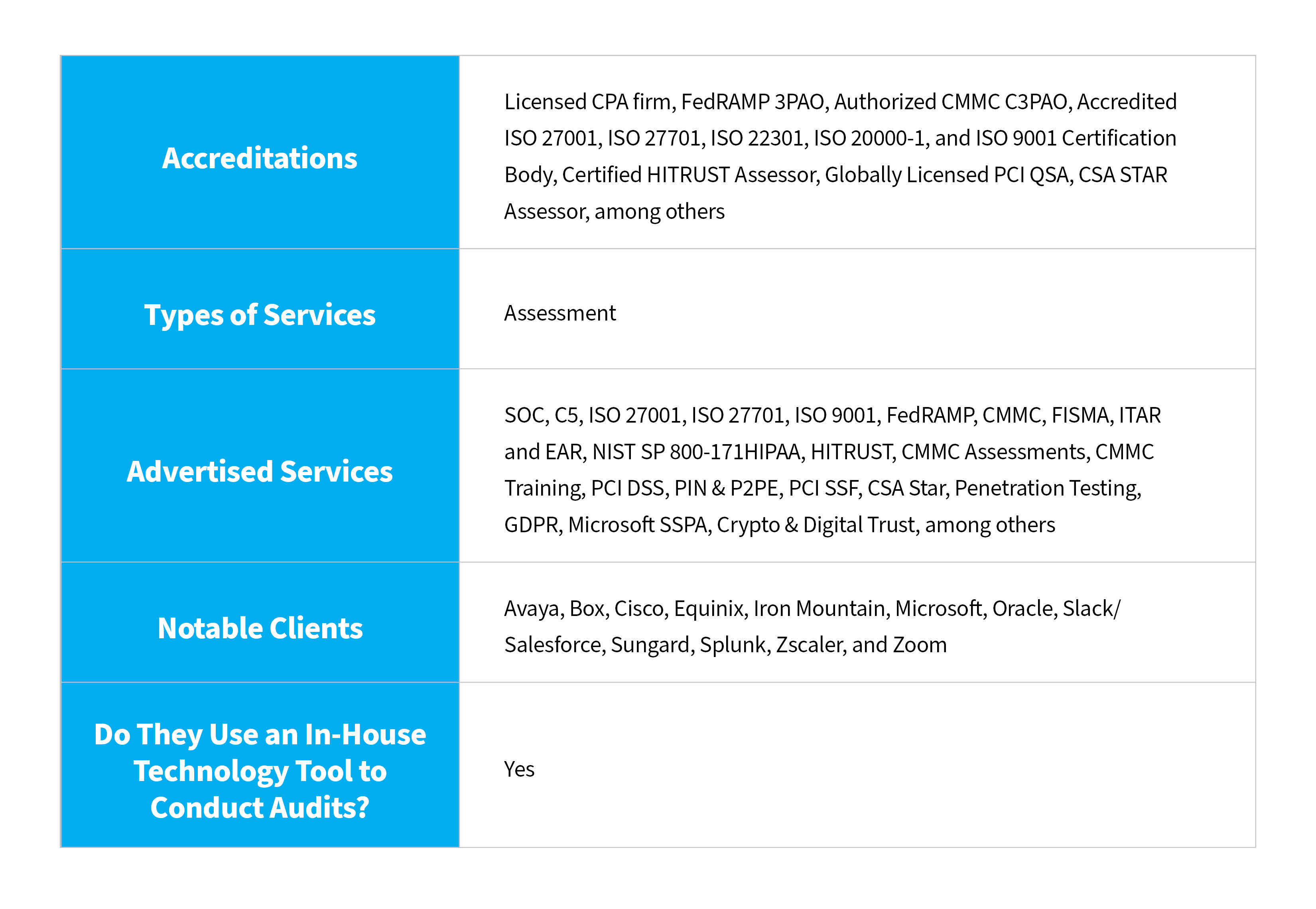 Based out of Tampa, Florida, Schellman currently works with 800+ clients on a variety of services, including 36 organizations on the S&P 500. We have subject matter experts in emerging technologies—artificial intelligence, the Internet of Things, and blockchain—on staff, and we also work closely with the Cloud Security Alliance in providing compliance across an array of initiatives.
Next Steps When Contracting a Single-Provider Cybersecurity Firm
When it comes to selecting an audit firm, the stakes are already high. Achieving compliance is another wrench thrown into your already busy schedule—nobody likes an audit, we understand.
Seeking a single-provider cybersecurity firm that can handle all your relevant needs can help streamline these processes, but to truly reap the efficiencies of only working with one firm, you need to be sure that you contract with the right one for your firm.
Though you'll no doubt speak with many firms, you now have starting points for at least three, reputable service providers you can choose to vet for yourself or not. No matter who you engage with, we'd also like to offer more information that can aid in your decision.
As one of these single-provider firms, we've been across the table from organizations just like you who are trying to weigh whether or not they can trust us with the responsibility of all their audits and assessments. We put together an article that includes 3 questions—questions that probe a little deeper than the normal sales chat and can help you glean valuable insight into every firm you vet.
At Schellman, we'd be happy to answer those questions so that you can gauge whether we're right for you. If you're interested in our answers—as well as our services—please reach out to us so we can determine together if Schellman is the right firm to serve your cybersecurity needs.
About Schellman
Schellman is a leading provider of attestation and compliance services. We are the only company in the world that is a CPA firm, a globally licensed PCI Qualified Security Assessor, an ISO Certification Body, HITRUST CSF Assessor, a FedRAMP 3PAO, and most recently, an APEC Accountability Agent. Renowned for expertise tempered by practical experience, Schellman's professionals provide superior client service balanced by steadfast independence. Our approach builds successful, long-term relationships and allows our clients to achieve multiple compliance objectives through a single third-party assessor.