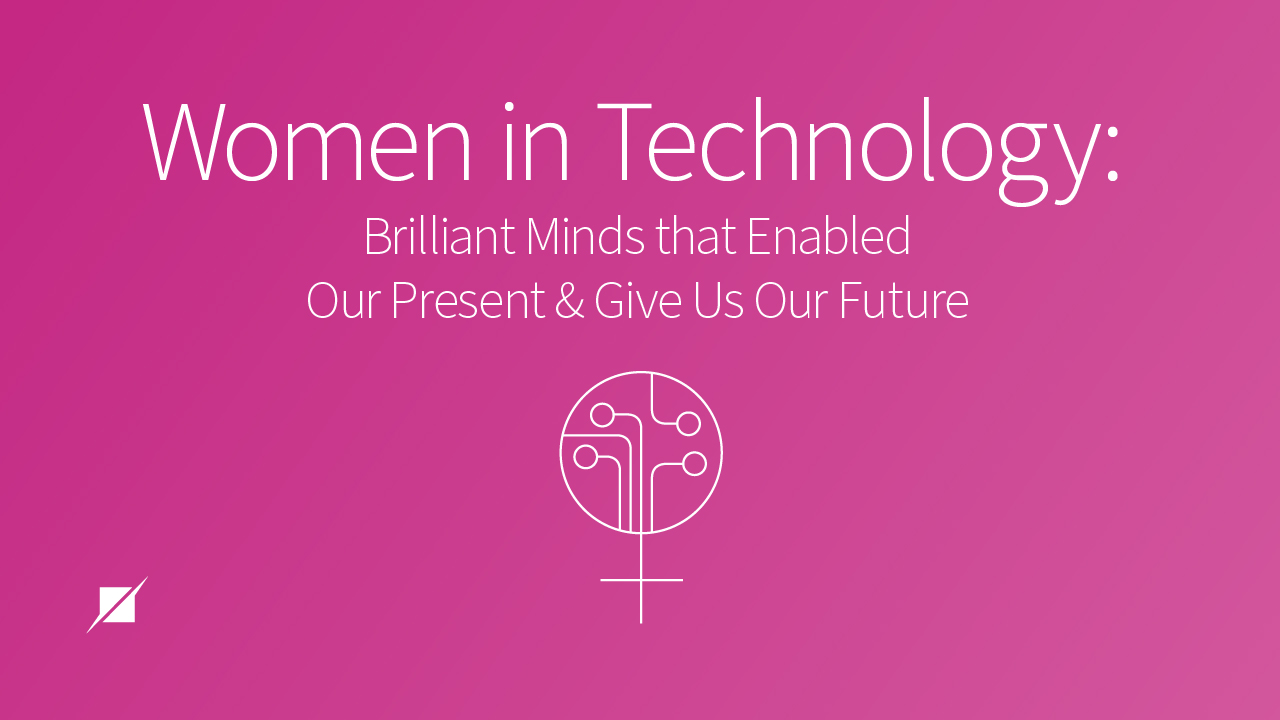 Tech reporter Rachel Kraus penned it simply and brilliantly: "The first programmers weren't men, and the first computers weren't machines. What they were, in both cases, were women." In that quote, Kraus refers to Ada Lovelace, considered the first computer programmer, and Katherine Johnson, known as the NASA "computer" whose calculations enabled several of America's first space exploration expeditions.
Their contributions to progress are just two in an endless sea of female success stories, a burgeoning and powerful effort that's gone generally unnoticed for far too long. For centuries, women have been unsung heroes in the tech industry—to this day, most people have never heard of Grace Hopper, Henrietta Swan Leavitt, or Carol Shaw, but they can list off Steve Jobs, Bill Gates, and Michael Dell at the drop of a hat. Fortunately, these days, women in the STEM fields are earning a bit more recognition—whether their accomplishments are marked in history or if they are changing our current era—and in light of Women's History Month, let's take a look at a handful of the most incredible female makers and shakers that the tech world has known to date.
Queens of Software
As Rachel Kraus reported, the precursor to the modern computer was actually a woman's doing. Ada Lovelace created her "Analytical Engine," which was noted back then to have "no pretensions whatever to originate anything. It [could] do whatever we know how to order it to perform. It [could] follow analysis; but it [had] no power of anticipating any analytical relations of truths." Though the machines have obviously come a long way since then, Lovelace is widely considered the first programmer.

Grace Hopper is another computer pioneer who really enjoyed thinking outside the box. She worked on America's first commercial computer, coined the term "computer bug," and invented FLOW-MATIC—the first English-like data processing language. She did all that and also served as a U.S. Navy Rear Admiral, though her name doesn't have household recognition. Still, every year, the world's largest gathering of women technologists happens in her name at the Grace Hopper Celebration.

Heralded as "the mother of the internet," this woman created the algorithm behind STP, a critical element of the internet's foundation. While studying at MIT, she developed TORTIS, a child-friendly version of the educational robotics language LOGO, though she didn't stop there. Now, she holds over 100 issued patents and is still inventing to this day—her most recent creation is the TRILL protocol, under the employment of Dell EMC. Computer science has much to thank Radia Perlman for, that is very clear.

Did you know? The first person to have a PC at home was a woman. The same woman is credited with writing the LINC computer's operating program manual, and she did it while working from home, helping to make remote work a modern-day reality for millions of people around the world. Her name is Mary Allen Wilkes.
Stargazing Amazonesses of Space
In the late 1800s, this woman worked at the Harvard College Observatory as a "computer"—which, at the time, meant a human calculator. Her calculations led to her discovery of the relationship between luminosity and the period of Cepheid variable stars. In other, simpler terms, her work directly led to Edwin Hubble's discovery of an expanding universe. Despite such a milestone to her credit, Henrietta Swan Leavitt wasn't really acclaimed in her lifetime—her time to shine is long overdue.

Nearly a hundred years later after Leavitt, a highly intelligent physicist, space scientist, and mathematician—and one of the first African American women to work as a NASA scientist—calculated the trajectory for Project Mercury and the Apollo 11 flight to the moon. Not only that, her work on backup procedures for the Apollo 13 mission also helped the crew return safely to Earth when the mission was aborted mid-flight. Katherine Johnson died earlier this year at 101 years old, and there are at least as many ways that she represented an incredible inspiration to women everywhere.

This former astronaut and pioneer of spacecraft technology is the current—and second female—director of the Johnson Space Center. Before that enormous promotion, Ellen Ochoa was the first Hispanic woman in space and logged nearly 1,000 hours of total flight time. She's worked on optical systems for automated space exploration, optical systems to detect defects in a repeating pattern, and has co-invented three patents for more such systems.
Gaming Goddesses, Digital Dreamers, and Mathematical Majesties
Not just in space and computers, women have also been the quiet screenwriters of many incredible inventions and breakthroughs across more of the sciences. That includes Annie Easley, who worked as a programmer on energy conversion systems. She developed and implemented code that led to the creation of the battery used in the first hybrid cars.

Moreover, the face behind some of your favorite videogame graphics is probably a woman's, given that female programmers continue to filter into that industry. However, women have actually been involved there since the beginning. If you've played River Raid, 3D Tic-Tac-Toe, Video Checkers, or Polo, you've definitely seen the work of Carol Shaw, though you might be oblivious to the advanced mathematical calculations behind it. As the first female videogame designer and programmer, Shaw was involved in the creation of home videogames from their inception.

When you think of Google, you probably might think of founders Larry Page and Sergey Brin. But among the hundreds of thousands of employees who have helped to make that company the goliath it is today, one other person stands out. This computer scientist's greatest achievements laid the groundwork for information retrieval when she introduced the use of thesauri and "term weighting" into language processing. So when you're Googling something online, know that Karen Spärck Jones had everything to do with it.

Yet another aspect of today's digital space—online dating—has a female pioneer. Long before Tinder and Match.com, there was the St. James Computer Dating Service (or Com-Pat), founded by Joan Ball. Her program devised a way to determine compatibility using the computer, and she made that first match-by-computer all the way back in 1964.

This Fellow of the Computer History Museum had humble beginnings as a child refugee in Britain during WWII. After six years of evening classes to attain a math degree, she began building computers from scratch and, when letters using her actual name got no response, she founded her own software company under a male alias. Dame Vera Stephanie "Steve" Shirley employed predominately women and became an IT pioneer, extremely successful businesswoman, and multi-millionaire philanthropist, having since donated more than £67 million of her personal wealth.
This list of extraordinary women in the STEM fields—along with all their groundbreaking insights, discoveries, passion, and dedication—is not and can never be comprehensive. While women continue to be an overwhelming minority in the tech workforce, their number stays steadily growing, thanks to initiatives that are welcoming, educating, and encouraging more of today's women to participate in STEM studies and industries. This month, we take a look back to appreciate these and all the incredible women who have paved the way thus far, as their stories also serve as a reminder to look forward as well—together, we must continue to make progress, shatter barriers, and broaden the world's horizons for a brighter and better tomorrow.
Sources and Additional Reading:
https://www.information-age.com/5-top-women-tech-history-123471081/
https://mashable.com/2018/03/08/unsung-women-in-tech/?europe=true
https://www.information-age.com/5-top-women-tech-history-123471081/
https://www.women-in-technology.com/wintec-blog/history-women-in-tech-influential-pioneers-everyone-should-know
https://obamawhitehouse.archives.gov/women-in-stem