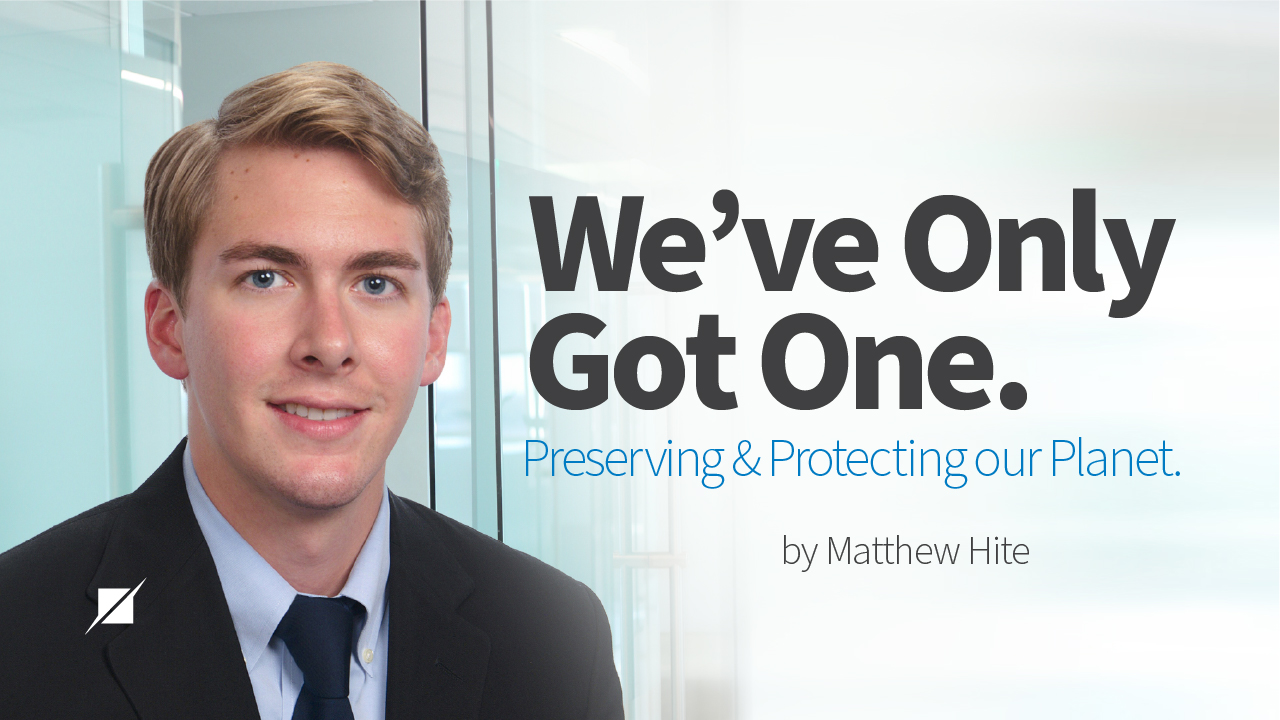 Time and time again, we see them—sea turtles with straws stuck up their noses, or a small fish washed ashore, trapped inside a plastic six-pack container. As the photos cycle to the forefront again and again, humans repeat the progression from shock and horror to vowing to do better to prevent this type of thing from happening again. Sometimes, corporations even jump into action—recently, Starbucks announced their war on plastic straws, and while it's an excellent step from a prominent American corporation, for some reason, the rest of us somehow view it as enough. We commend the gesture, and everyone goes back to their normal day-to-day activities as if one corporation alone will save the world for the 7.8 billion people on it. So what else can we do to help preserve and protect the planet around us, as well as the plants and animals that inhabit it? What can we be doing each day to become a good global citizen?
Right now, the earth is facing many extreme threats, many of which are perpetuated by humans. These include:
• Pollution
The introduction of harmful or poisonous substances into the air, water, or soil, primarily from industrial waste and vehicle exhaust.
• Global Warming and Climate Change
The rise in temperatures due to emission of greenhouse gases that causes the melting of polar ice caps and raises sea levels.
• Improper Waste Disposal
The disposal of plastics, electronics, batteries, rubber, and other toxic waste that results in pollution and other destruction of the environment.
• Deforestation
The clearing of trees and forested areas to make land available for residential, commercial, and industrial use, which often destroys the homes of animals and pushes them out of their natural habitats.
"In order to make a meaningful difference, we need to evaluate our daily behaviors"
In terms of lessening the human threat, we all know the easy ways to affect small, positive changes—recycle your plastic water bottles, turn off the lights when you're not using them, and don't keep the water running while you're brushing your teeth. These are all great habits for each of us to practice; however, these sorts of things are still unlikely to make a more significant impact. In order to make a meaningful difference, we need to evaluate our daily behaviors so as to identify ways to intentionally reduce our consumption and be more eco-conscious.
While the environment has several high-profile activists fighting for greater change around the world, those of us who cannot dedicate our lives to the cause must do the work in other ways. Below are a few ideas to consider in order to join in preserving and protecting our Earth:
• #TrashTag Challenge
Participate in the viral social media challenge that has contributors post photos of themselves displaying bags of litter that they cleaned up from local parks or city streets. The next time you go on a walk around your neighborhood, consider bringing along a trash bag to pick up litter along your path, then post a photo to coax your network into doing the same.
• Donate
Donate to a charity whose primary focus is benefiting the environment, such as The Nature Conservancy, Sierra Club Foundation, or the Environmental Defense Fund.
• Support Parks
Enjoy and appreciate the outdoors by visiting a local State Park or nature preserve.
• Vote
As citizens, the greatest tool we have is establishing laws and regulations, and that includes those to limit the exploitation of natural resources and protect the environment. Call or write to your local representative and express the need to safeguard and preserve our earth.
• Reduce Consumption
Consider a minimalist lifestyle and use only reusable containers for water, coffee/tea, shopping bags, and food storage. At the grocery, do not purchase food that is sold in excessively wasteful containers and opt for alternatives instead. At home, install water-efficient showerheads and toilets—you might even consider putting in a rainwater tank or switching to solar energy for power.
• Get Your Employer Involved
Reach out to your employer and express your desire for support in being a good global citizen. While commercial industries are the leading cause of negative ecological consequences, many companies are willing to do what they can to reduce their environmental footprint and financially support charities that help. Here at Schellman, the company has implemented many initiatives to promote positive environmental impact, including an annual company-wide SchellmanCARES volunteer day, the availability of Volunteering Time Off (VTO) for employees to give their time to organizations of their choice, and charity donation matching through YourCause.
"All of us collectively share this planet, and we've only got the one—it is up to every single human to help protect it."
Though all together, the ideas for such lifestyle changes can seem intimidating and therefore not feasible, I encourage each and every one of you to consider implementing just one of the above suggestions into your life as a start. Though it is easy for us to think that we are too small to make a difference, small actions made by a lot of people equals a big change. All of us collectively share this planet, and we've only got the one—it is up to every single human to help protect it.