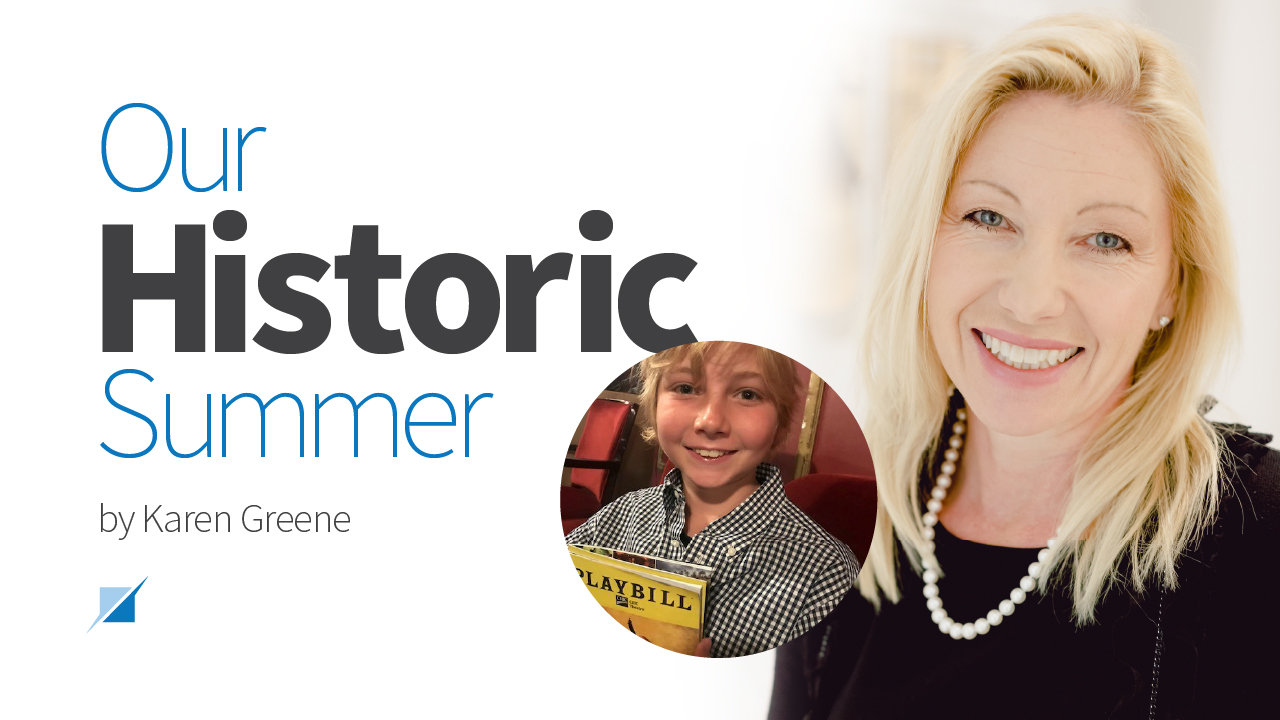 Just a year ago, contemplating the return of the school year meant traditional fall activities—the excitement of new backpacks and seeing our new kindergarteners venture off to campus for the first time, maybe traveling to see pretty fall foliage on holiday breaks.
Unfortunately, 2020 has manifested new "firsts" for the start of a new school year, including far weightier decisions like online, virtual, or classroom learning? 2020 has raised questions like, how can I turn my house into a more sustainable place to work and learn? What are we going do with our Saturday afternoons without college football?
"When faced with such unprecedented circumstances, it is comforting to find the familiar where you can..."
When faced with such unprecedented circumstances, it is comforting to find the familiar where you can, something like the traditional fall custom of an essay on How I Spent My Summer Vacation—a ritual meant to ease students from free-wheeling summer fun into the more serious business of learning. Summer fun has meant something different in 2020, and families all over the world have shared similar experiences recently in that we have all had far fewer BBQs, vacations, and fireworks this year—the global pandemic has been historic for all of us in that sense. Despite the differences, my family and I managed a historic summer in another way—it was historic in that we embraced history.
It all started in June, with our growing excitement for the release of the musical Hamilton on the Disney+ streaming service. Meant as a boon to all people stuck at home avoiding COVID-19, the wide release of the coveted show was a highly anticipated milestone for us coming out of our totally mundane spring. On July 3rd, the "opening day," we had three showings, complete with popcorn, candy, and the big screen. After that, Hamilton and study of the American Revolution would become the focus of our whole summer.
In case you're not familiar with Hamilton, it is a Broadway musical that tells the story of American Founding Father Alexander Hamilton, as well as the other historical personalities who figured into his life, such as George Washington and Aaron Burr. Composed by the famed Lin-Manuel Miranda, the show uses music to tell a (mostly accurate) historical story based on a biography of Hamilton written by Ron Chernow. Unlike many other musicals, Hamilton is sung through entirely—meaning there are no spoken lines of dialogue, only songs—and it features a score that includes an abundance of rap and some hip hop, as well as some more traditional show tunes. When it debuted on Broadway in 2015, the show was reviewed as a remarkable blend of styles and choreography unlike any other, winning multiple Tony Awards and maintaining an impressive allure, even now—five years later.
In the show and in our copy of Chernow's book that had—before now—sat lovingly on the bookshelf for more than 10 years, we followed Hamilton's rise from humble immigrant beginnings to the position of Secretary of the Treasury, which included his role in the creation of a national bank. The show remarks many times on Hamilton's "non-stop" nature, and by all accounts, it's true. He studied at King's College, served in the continental army and was a close aide to General George Washington, later writing the Federalist Papers alongside James Madison and John Jay while playing a pivotal part as one of the framers of the Constitution. His gift with words served him well professionally and personally—he also had a love for the ladies—but it did get him into trouble at times, including birthing a life-long political rivalry with Aaron Burr, who eventually killed Hamilton in a duel.
The way the show spun it, with all the drama, intrigue, romance, duels, songs, and choreography, we were hooked. After watching, my husband and I fielded easy questions from the kids about what it was like to live in New York during the late 1700s and how long it took to travel by ship from London to New York harbor. As we all dug deeper, the conversations brought an opportunity for my husband to nerd out on history with the kids, a role he thoroughly embraced in going through more meaningful questions:
- Was Hamilton's drive generated from his humble upbringing or for his passion for the fight for freedom?
- What did it mean that he would not give up his "shot?"
- What was Hamilton's legacy?
- Why was it surprising for Washington to step down and peacefully transition political power to another leader?
- Was King George III really such a doofus?
Clearly, a spark had ignited!
Fittingly, the next day after the release of Hamilton was July 4th, and that day, we listened to a reading of the Declaration of Independence on NPR. That's a ritual I have embraced for my entire adult life, and now it's become an event for our family.
A week after that, we embarked on a road trip and found our way to Cowpens National Battlefield. Having passed it about a dozen times on other drives, this was the year to make it a scheduled stop. Just south of the Broad River in South Carolina and named for the farm on which it took place, this battle site was a turning point in the Revolutionary War when 1,100 Continental Army and militia soldiers under Daniel Morgan met 1,200 British led by 26-year-old Banastre Tarleton. As a family, we walked the path of both sides, replayed the double envelopment strategy, and discussed why the militia men, with their rifles rather than muskets, were more skilled than the trained Continental regulars. Cowpens was the most decisive American victory of the war and ultimately led Cornwallis to surrender at Yorktown.
For some more context on that particular battle, we watched the film The Patriot, a historical dramatization loosely based on the lives of Morgan and Tarleton. We'd seen the actual battleground, but the movie provided a more visual dose of life during that time, a glimpse of what it would be like to be in the middle of the battle, and made the human sacrifice for freedom feel more real.
Thanks to our travels and our chosen media, we learned novel words like dragoon, musket, and Sons of Liberty. We touched a British cannon, much like the one that Hamilton stole from the British during battle in New York in 1775. The Hamilton score was a constant as we sang songs, danced to our favorite tunes, and lined up to duel with each other in the living room– nerf guns ready, 10 paces, fire!
"Last weekend, my daughter stood up in her chair, Cheerios flying, and shouted, "Look Daddy, that woman is sewing that flag!" Her proud dad beamed with a smile as he launched into facts about Betsy Ross."
We also swapped out the normal Saturday morning cartoon lineup for SchoolHouse Rocks. Over pancakes, our kids belted out the "Shot Heard Round the World" and several key segments in "The Preamble." Last weekend, my daughter stood up in her chair, Cheerios flying, and shouted, "Look Daddy, that woman is sewing that flag!" Her proud dad beamed with a smile as he launched into facts about Betsy Ross.
Hamilton had not only consumed our kids and our conversations, but also my social media feeds. My Moms group feed flourished with quotes and questions about Hamilton. Was it too mature for a 7-year-old? How about the songs – could kids listen to the soundtrack? Votes were tallied on the best cover song on the separately released album, "Hamilton Mix Tapes." The group feed for my high school was also buzzing about Hamilton. One of my classmates from the 4th grade was so inspired he dug up the words to our musical, Tall Tom Jefferson, as well as about three dozen embarrassing photos of us on stage. Not Hamilton quality by far, but a great distraction from the more serious considerations we were all facing as a return to school loomed large on the calendar.
So, even though our summer was not exactly what we had planned, we found our way with new "firsts." We had a historic, yet low-key time exploring history through song and dance, battlefields and books. Although we don't know how the return to campus will go, we do know how we'll be spending Saturday afternoons without college football—probably impersonating the singsong King George III with his catchy ♫ da dada da da, da dadada dayada, dada da da dayada ♫ and dueling in the backyard with the nerf guns. ("One, two, three, four, five, six, seven, eight, nine—number—ten paces, fire!")
We thank Lin-Manuel Miranda for being the inspiration for our summer, but the award-winning composer, lyricist, and actor didn't and does not stop there regarding Hamilton. His foundation, Rise Up For Good, supports education, equal rights, and The Gilder Lehrman Institute of American History—the leading American history nonprofit organization dedicated to K–12 education, for which Lin-Manuel Miranda created the Hamilton Education Program. Please consider making a donation to this important charity, or one of the many other organizations that support an early childhood appreciation for history.
More about the Gilder Lerhman Institute:
Now celebrating its twenty-fifth year, the Gilder Lehrman Institute of American History was founded in 1994 by Richard Gilder and Lewis E. Lehrman, visionaries and lifelong supporters of American history education. The Institute is the leading nonprofit organization dedicated to K–12 history education while also serving the general public. Its mission is to promote the knowledge and understanding of American history through educational programs and resources. At the Institute's core is the Gilder Lehrman Collection, one of the great archives in American history. Drawing on the 70,000 documents in the Gilder Lehrman Collection and an extensive network of eminent historians, the Institute provides teachers, students, and the public with direct access to unique primary source materials. As a 501(c)(3) nonprofit public charity, the Gilder Lehrman Institute of American History is supported through the generosity of individuals, corporations, and foundations. The Institute's programs have been recognized by awards from the White House, the National Endowment for the Humanities, the Organization of American Historians, and the Council of Independent Colleges.