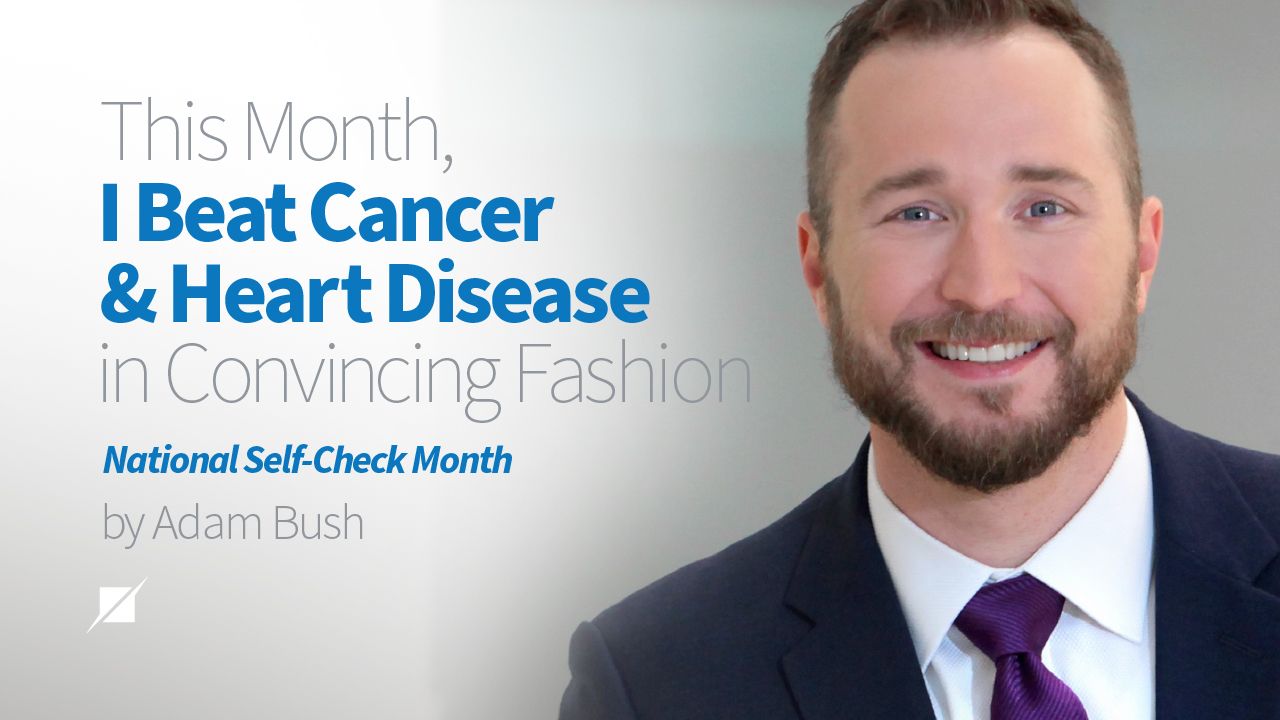 As much as we'd hate to admit it, human beings love drama—to the point where we seek out and even manufacture it sometimes. A scroll through the TV guide or Netflix queue reinforces that we are naturally drawn to these sensational stories—a forbidden love tryst, the nail-biting outcome of a sporting event, a harrowing documentary of a brutal crime. But the allure of drama is not just limited to our screens, and we are drawn to it all the same in our actual, non-fictional lives, whether it's closely following the latest Hollywood scandal, pressing your luck at the roulette table, or rubbernecking far longer than we should around a car wreck. Our attraction to drama is so pervasive, it's fair to quantify it as a very natural thing. So, let us acknowledge from the onset that national self-check month can seem completely counter to human nature.
Because checking on ourselves has little to no dramatic zeal, it's easy enough for us to put it at the end of the to-do list, or even forget to do so entirely. Someone who notices a suspicious mole and had it removed in an outpatient procedure garners approximately the same celebration as the number 1 overall seed defeating the 16 seed. "Well, ok, that's great I guess, you took care of business." Neither are very memorable at all, typically.
But that doesn't mean that each of those examples aren't important just because they're not that exciting. In fact, despite such a usually lackluster reaction, both are critical to their respective long-term success. Just as dominant teams that regularly take care of business are put into prime position to win the ever-sought-after championships, people that regularly self-check and make use of wellness checks by their physicians are substantially less likely to have their lives cut short by chronic or preventable disease. According to the CDC, eliminating excess risk factors and early detection can increase your relative survival rate by 90% and reduce your risk of developing that life-threatening condition in the first place by half. Medical dramas might be a staple on the TV schedule, but there's no need to add one to your actual life, which means periodic self-checks are actually more exciting than they seem.
"Every time a human emerges on the other side of disease, it's something to celebrate."
And anyway, it still can be satisfying to celebrate these things that don't tick all the sensational boxes. We have all probably seen those Facebook videos of someone passionately ringing a bell to signify their victory over cancer after a long, arduous battle, and such a scene stirs the soul in a different, yet still profoundly positive way. Let's certainly continue to celebrate those milestones for people we know, as well as those we don't. COVID-19 has proven yet again that the human body remains fragile, and even before this global pandemic, we were being accosted on so many fronts from cancer (breast, cervix, colon, lung, mouth, ovarian, prostate, skin, testicular, etc.), heart disease, diabetes, and obesity, among many more. Every time a human emerges on the other side of disease, it's something to celebrate. But just as those dominant, championship teams are often more regaled for their consistency than their showy wins, it's just as important to also pay heed to everyone taking the regular steps necessary to prevent health issues in the first place.
It may go against our nature, but in this case, please save yourself, your families, and your friends some drama by checking out some of the many resources provided by selfchec.org. This month, and every month, I make a point to practice the screening habits outlined on their site. Don't worry if that seems daunting—instead, seek out guidance from your health professional. Most insurance plans cover routine wellness checks and are required to cover preventive health services. These things often seem out of our control – but establishing good habits now (today!) can greatly change your outcome and help all of us live out our lives to the fullest.
RESOURCES:
National Self-Check Month
National Self-Check Month is a reminder that every day of the year we can take charge of our health and increase our odds of avoiding chronic disease and other often preventable conditions.
We all have our reasons for avoiding a checkup or self-check. We're too busy, or we don't want to know the truth. National Self Check Month brings to your fingertips a variety of self-empowering and proactive early detection and preventative resources and tools to guide us through healthcare-related fears and concerns.
Even if you are proactive, someone in your life may not be. National Self -Check Month provides an opportunity for you to sit down with a loved one to share your concerns and offer ways to better health.
How to Observe
It's time to do your important self-checks and/or visit your healthcare professional for a wellness check. Before you go, visit selfchec.org for a list of proactive resources to help prepare you for your visit and make a list of any concerns you may have. Use #NationalSelfCheckMonth to share on social media.
About Self Chec
Most people are reactive when it comes to their health; they seek out information when they are already sick, or a friend has been diagnosed. Self Chec does the opposite, it nudges the public about the importance of proactive prevention, early detection and wellness care of chronic diseases, so they can reduce their odds of getting sick in the first place.
CDC on Preventing Chronic Disease