Why We Celebrate Juneteenth
Recognized annually as a federal holiday on June 19th, Juneteenth represents an important day deeply rooted in American history. On behalf of SchellmanPRISM, we ask that you take a moment to celebrate this holiday that commemorates the end of slavery in the United States.
For those who are not familiar with Juneteenth and its significance, we will briefly take you on the journey of the holiday's origin, its historical trajectory through the blueprint of America, and why we celebrate.
The History of Juneteeth
We all know July 4th, 1776. The date commemorates the United States of America's adoption of the Declaration of Independence, signifying its independence from the monarch of Britain, King George.
History books tell us that we fought the subsequent Revolutionary War for American freedom. While we did win that war, the freedom we fought for would remain limited for some based on race and skin color for the next 250+ years.
Fast forward to another date in history—January 1, 1863.
It's just after the Civil War now, and on this day, the Emancipation Proclamation—which President Lincoln signed and implemented—became official. The Emancipation Proclamation declared that all persons held as a slave within the rebellious states were free. Unfortunately, for one of those last rebellious states, Texas, the Emancipation Proclamation was not immediately accepted and upheld due to the minimal number of Union troops present to enforce the new Executive Order.
It wouldn't be until April of 1865 and the arrival of General Granger and his regiment that enough troops would be in place to fully enforce the Emancipation Proclamation. Even then, it still took just under two months of scouring the state of Texas to make the new Executive Order law.
It would be two and a half years after the Emancipation Proclamation was signed that the remaining enslaved people in the state of Texas were finally freed on June 19, 1865.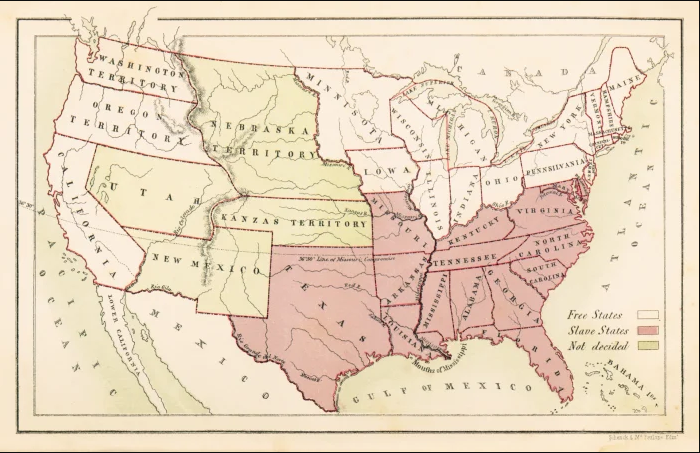 A map of the United States that shows 'free states,' 'slave states,' and 'undecided' ones, as it appeared in the book 'American Slavery and Colour,' by William Chambers, 1857. Stock Montage/Getty Images

Honoring Juneteenth
It was the famous poet, writer, actress, and activist Maya Angelou, who said that "the truth is, no one of us can be free until everybody is free."

Though she said that decades after the final enforcement of the Emancipation Proclamation in 1865, she was right. Though the Emancipation Proclamation was signed into order on January 1, 1863, it wasn't until the last slaves were freed in Texas in June of 1865 that we, as people, were all truly free.

That's why, every year, we remember June 19, 1865, and why we celebrate it as Juneteenth.

Whether you already knew this piece of American history or if this is the first you're hearing the details, we ask that as you utter the words Happy Juneteenth to those around you, never forget, if one of us is not free then we are all not free, no matter your race, background, culture, or experiences.

From all of us at Schellman, Happy Juneteenth to our ancestors and to those who paved the way to true freedom.
About Schellman
Schellman is a leading provider of attestation and compliance services. We are the only company in the world that is a CPA firm, a globally licensed PCI Qualified Security Assessor, an ISO Certification Body, HITRUST CSF Assessor, a FedRAMP 3PAO, and most recently, an APEC Accountability Agent. Renowned for expertise tempered by practical experience, Schellman's professionals provide superior client service balanced by steadfast independence. Our approach builds successful, long-term relationships and allows our clients to achieve multiple compliance objectives through a single third-party assessor.