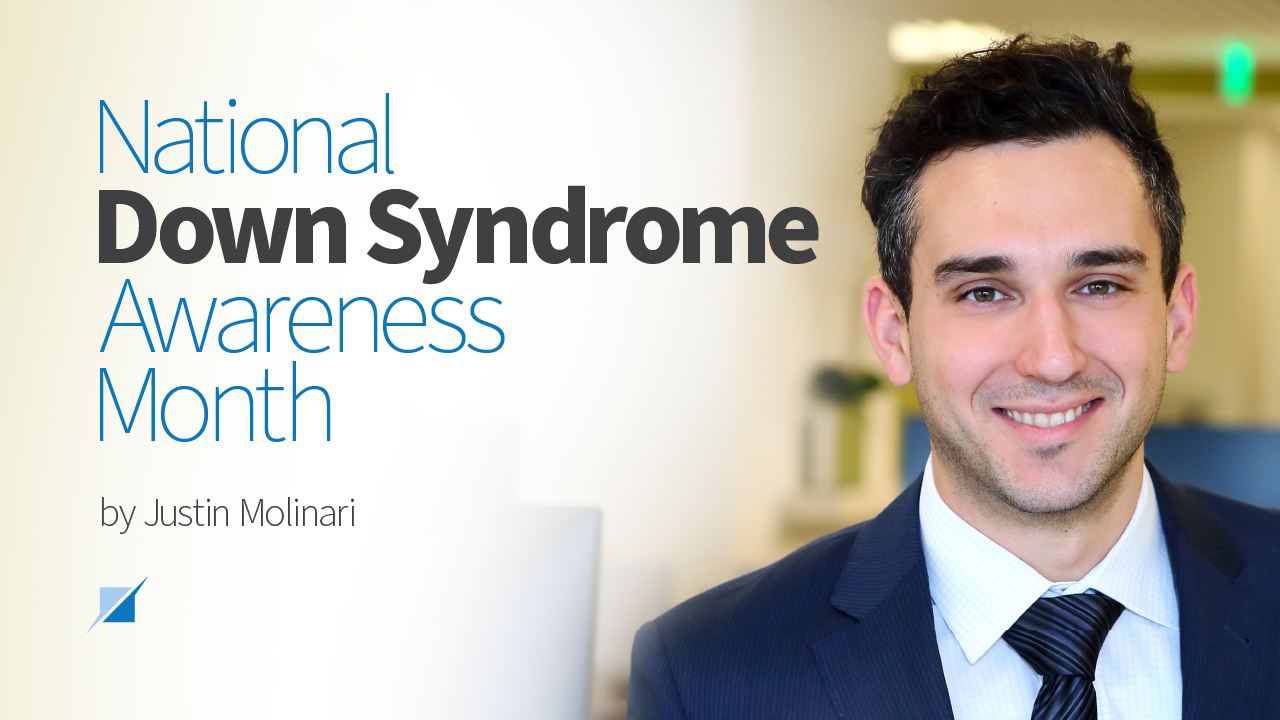 October is National Down Syndrome Awareness Month, and it's a time for all of us to pay special attention to those people who are differently abled yet often misunderstood and underrepresented in our society. Together, we can help break stigmas and build communities that offer support and foster inclusion of people with Down Syndrome and others who are differently abled. We all need to support each other and create a society that works for all of us, especially since we are probably much more alike than we realize. For me personally, it was working with the Special Olympics that helped change my own perceptions, and that experience would also change my life.
Many people know the Special Olympics to be a biannual spectacle in which the best athletes with intellectual or physical challenges compete for national and personal glory. Others may consider it to be a series of events comprised of feel-good, everybody-is-a-winner narratives, with little regard for victory or defeat and the palpable pressure of other high-profile athletic endeavors. But as someone who has worked with the organization, I can tell you assuredly that those perceptions are too simple—in fact, the Special Olympics are much more than that, especially to the athletes and their families.
"To understand what the Special Olympics really means, you need not look at the actual athletic competitions, but rather the enormous spirit of community and belonging."
To understand what the Special Olympics really means, you need not look at the actual athletic competitions, but rather the enormous spirit of community and belonging. Most of those who participate will never see the international games, but then again, they may not even necessarily aspire to it. As nearly every community in the United States has a Special Olympics chapter, I was able to witness the special atmosphere when I served at the Palm Beach County chapter in South Florida as the assistant coach for the adult softball team.
Every Tuesday, we would hold practice until the waning hours of the summer night. Despite not having a single real game until fall, practice was held every single week during the summer because the players loved it so much. The athletes all come from a wide array of ages and abilities—both in softball and otherwise—and they loved seeing their friends, they loved the game, and they loved improving. They loved the sense of empowerment in their cracking of the bat, or in catching a run-saving fly ball. But not only that, practice was also a place for the parents. While we raced around the field, they chatted and laughed in lawn chairs, these tired people that had been through and continue to go through unbelievable difficulties. Softball practice provided a place where everyone around them shared those same joys and pains, while also offering an opportunity to watch their grown adult children in their element and having fun.
After months and months of practice, the team and their families traveled to Orlando, Florida to compete for the state championship at the Disney Wide World of Sports. We rented a school bus and were followed by a cavalcade of support as we drove up the highway for the culmination of all of the athletes' hard work.
For me, softball practices themselves were one kind of fun, but the bus rides were unforgettable—the practical jokes, the nervous energy, the clear anticipation of playing in a bonafide, top facility. In fact, each ride itself was a competition, and the one I remember most vividly was the challenge of opening as many ballcap adjustable straps as you could without the wearers noticing. Even still, it wasn't all jokes--our team was ready, not just because they grew together as a family in the sports cliché sense, but also because they were an imposing and talented ballclub.
The first night featured the opening ceremonies within the stadium. The master of ceremonies on the field called for all of the summer game athletes to stand after they called the name of their county. When Palm Beach was called, our section erupted. The players and their families were bursting with pride to represent themselves and where they come from, irrevocably linked with each other through athletics, special education, and shared experience. From what I witnessed, the special needs community—especially within the context of the Special Olympics—is a culture within itself, bigger than the sum of its parts, and tethered to a love of the game and love of competition. A little familiar but all together much more earnest, it is a bigger, more affecting feeling than I anticipated. The Special Olympics is a place and moment in time in which cynicism and the hard-boiled voice of dissidence do not exist, and these days, that is a feeling that can seem virtually unattainable.
"...despite the distinctions in our experiences and advantages, we really aren't all that different as people..."
Two days later, the final out was recorded, and the Palm Beach County Dragons won the state championship for their division. The euphoria of winning made for, undoubtedly, one of the happiest moments in the lives of the players and their families, but in the few years since then, I find myself reminiscing more about the regular Tuesday practices. Those memories will trigger others, like of my own baseball days that saw me drag myself to practice with that same yearning to win, the same yearning to hit a home run, and the same yearning for a sense of self-pride. The similarities in the recollections made me realize that despite the distinctions in our experiences and advantages, we really aren't all that different as people, because as athletes, at least, we are the same. We all share the common sentiment that the true spirit of the game existed in its purest form during those practices, when we were all together, trying our best at something we loved, having fun, and representing something bigger than ourselves while we were doing it.
The Special Olympics provides the grandest of stages for some to experience that kind of camaraderie and pure joy—feelings that everyone should feel at least once in their lives, including those with Down Syndrome. As it is October, please consider lending your time or talents to causes that support the differently abled. With your help, local and national organizations can continue to enrich the lives of those with intellectual challenges and provide a sense of belonging and achievement—something that every human being, no matter who you are, is always chasing.