What to Expect from the Schellman-X Hiring & Onboarding Process
For most students, your first corporate job is a milestone that seals the deal on the college experience. You've hustled from class to class and library to study hall, you've completed the internships in between, all so that you gain the tools to find employment and launch what hopefully turns out to be a beautiful career.
However, the process of applying for your first job out of college can present a few obstacles.
You know what I mean—maybe the job says it's entry-level, but still wants years of experience to qualify. Or you apply and you're never sure if and when you'll hear back. Or you get started in the interview process only to find out it's super lengthy with no end in sight. Maybe you took a job but your first days were unexpectedly chaotic.
Typically, what to expect from these initial processes isn't advertised in job descriptions, but if you're considering Schellman, I'm about to provide a little insight as someone who has recently completed the onboarding process with this firm. Because I know that when you're looking for a job, it'd be nice to know what to expect from these initial experiences.
My name is Jamarcus James. I am a graduate of the Schellman-X Program, and in this article, I'm going to tell you about my experience in coming aboard at Schellman, including my interview process and my first days at the firm.
If you're a recent college graduate, or you're about to be, you may be considering Schellman as your first employer. With the information I'm about to provide, you'll have a better idea of what to expect if you do move forward in applying to Schellman.
Asking the Common Job Hunt Questions
First, a little about me to give you an idea of where my job search began. I was born in Orlando, Florida. Growing up I enjoyed technology, video games, and basketball—I was a pivotal part of our local teams if I do say so myself. More recently, I graduated from Florida International University with a degree in Information Technology.
Toward the second half of my college experience, I started asking myself those familiar questions most of us ask:
Where should I start to look for employment?

What role will—or could—I play in a company fresh out of college?
But these mysteries just generated even more questions, as I'm sure you can probably relate:
What am I looking for in a company?

What specific field do I want to go into?

How do I know I will be successful in a new job?
The Schellman-X program would eventually help me answer all these questions, but not before I did a little research (as any soon-to-be-grad should do).
The Difficulty in Meeting Mutual Requirements
I answered the "what am I looking for" question first—I wanted a workplace with a strong sense of community. That's what I was used to, having grown up playing sports, I wanted that same camaraderie and chemistry at my future job. (I would eventually be pleased to find that.)
From that list, I began researching what role I would play for each. Recent college grads know this dilemma well—a lot of the entry-level jobs I wanted to apply for required 3 years of experience in the field.
You read that correctly—they wanted three years of experience for an entry-level position.
The sooner you realize this as a college student the better off you'll be because internships in school can sometimes help navigate around this, though it's not always so easy. Depending on your course load or if you're working to put yourself through school, you might not have that kind of time to invest on top of everything else.
It can be a problem since so many places want you to have enough experience to be able to jump right in. This is where the Schellman-X program comes in.
Finding Schellman-X
Amidst my search, I was referred to Schellman, a cybersecurity attestation and compliance firm, by a long-time family friend who was familiar with the company and their growth in the last few years. He attested—ha, get it?—to the company culture and told me it would be a great fit.
But, like other firms, the job opportunities Schellman listed also required two to three years of experience. The difference was, they also offered a chance to complete Schellman-X, which is a program they've established to bridge the knowledge/experience gap between new college graduates and a career in the tech arena. It's specifically geared toward graduates seeking employment, provides them with the opportunity to learn the skills they need to excel, and pays them for it.
(Yes, we got paid to learn.)
Applying to Schellman – The Interview Process
Schellman seemed like a great fit for me, so after researching the company for myself, I chose to apply—within a month I was granted an interview.
My first interview was a conversation with a recruiter who spent most of the time getting to know me. They asked about my upbringing, why I chose to apply to Schellman, and my career goals. This being one of my first corporate interviews, that initial conversation was honestly refreshing and released some of the nerves I had.
After that, I had two more interviews—one with a senior associate and manager and the other with a principal. These conversations were just as encouraging, though the topics were a little different—most of these questions centered on my work ethic and personality. We didn't talk much about the technical aspects of the job, as they were prepared to teach me.
I guess it all went well because I was soon offered and accepted a full-time position as a Schellman Associate.
Starting the Schellman-X Program
I had a couple of months between when I accepted the offer and when my training would begin, but during that time, I received informative emails and calls from the Schellman team that provided:
Details regarding my on-site training.

Answers to any questions I had sent over.
The thorough communication helped ease first-job jitters and ensured my smooth transition into the workplace—and what a smooth transition it was.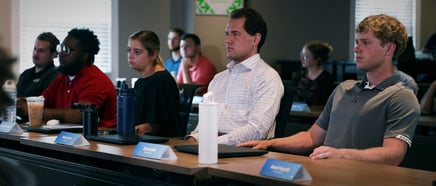 On day one, I was greeted with the excitement and knowledge of facilitators who had been with Schellman for 10 years or more, including the Chief Knowledge Officer of the firm. Although It takes time to build community, being greeted by tenured professionals that were so excited to bring in a new generation indicated I was in the right place.
The training that followed provided me with a deeper understanding of:
The full background of the company;

What my role would be; and

The necessary, hands-on skills I needed to be successful in said role.
The presentations were led by top executives and past members of the program who offered priceless guidance, industry best practices, and resources to me and approximately 8 others, all of us taking our first steps together.
So complete was the training that I have easily and successfully transitioned into my associate role here at Schellman—I now work in our SOC service delivery, bridging the trust gap between companies by identifying and testing their internal controls.
Interested in Joining the Team?
As far as first jobs go, I'm thankful to have had the opportunity to find one that was transparent in its expectations and has remained true to its promises to help me effectively transition to a contributing member of the workforce.
My advice to any prospective graduates looking for their first foray into the corporate world would be to do research and find a program like this that will teach and empower you in your new role just like this one did for me.
And if you have an interest in IT, the right program might be this one. If you already agree, visit our opportunities page and get your process started. But if you're still on the fence, know that you don't have to take just my word on Schellman—check out more content by other team members to learn more about our culture so that you can be sure if this is the right place for you: