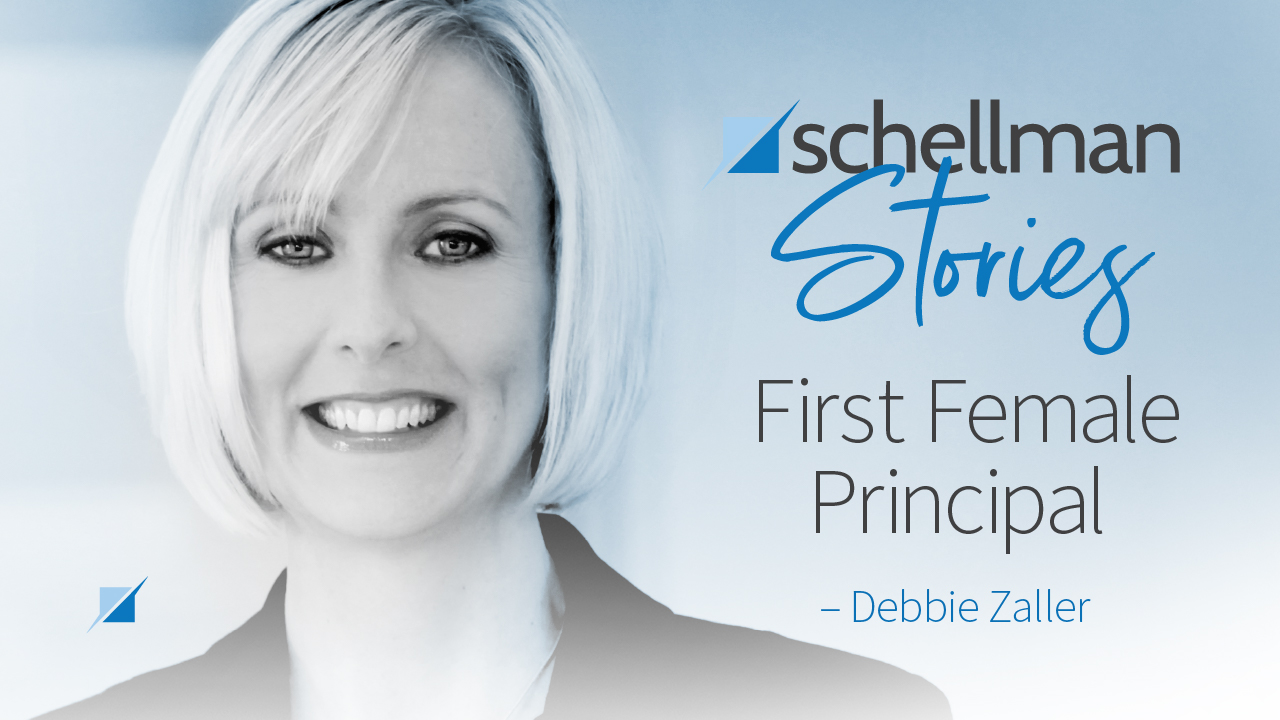 It might sound strange, but I didn't even realize that I was the first female Principal at Schellman until after it all happened. Becoming and then being the first at anything is usually such a milestone, so how could I not realize that I was going to be the first female Principal at our firm? As funny as it may sound, it's true that my accomplishment didn't resonate truly in my head for a while, and that probably speaks volumes about the culture established here at Schellman & Company. The long journey of women in the workforce has been well-documented in history, and unfortunately, there are still discrepancies in business that are baselessly predicated on gender. Along my own journey up the "corporate ladder," I experienced things I know many women in our industry can relate to, but what sets my path apart is where it all happened—here, at Schellman. I'm so proud to be part owner here, and I have hopes that the inclusive culture we have established can, one day, percolate to everywhere in our industry and beyond.
As of this writing, I have been in the technology audit and compliance field for over 21 years. For those of you not familiar with this industry, my job is to audit the technology and security practices of companies across many different industries that contract with us to ensure their compliance. Being a tech-based field, it was then—and still very much remains—a male-dominated field. So much so that, at conferences, it was a running joke that these industry gatherings were the only place us ladies didn't find a line for the bathroom. But that was then, and these days, as we see more women come up in the industry, the women's restroom is becoming more and more crowded at those conferences.
As we all grow in number, the women that I meet always have some interesting stories about their work environment, not the least of which is the struggle in commanding respect amidst all these men in the industry. In that, I can certainly relate and have stories of my own encounters with clients during an audit. Most times, these men see a blonde-haired, blue-eyed female approaching them to do the fieldwork, and it's evident on their faces how they believe there is no way I have a clue about technology—that they will need to teach me, that they can tell me anything they want. In fact, I put up with that until I was able to show my Certified Information Systems Security Professional (CISSP) certification—with that in hand, I finally received some respect, for the most part. When commiserating with other women in the business, another common topic amongst us is the struggle many experience trying to progress their careers in this male-dominated field. Each time this comes up, I always listen but I am usually shocked, over and over again, because when it's time for me to offer my story, it contrasts quite a bit.
"And that has everything to do with where I work, at Schellman, because our culture works so hard to be different"
And that has everything to do with where I work, at Schellman, because our culture works so hard to be different. Not only did we have a President that was always supportive of team members regardless of gender, but the many other male leaders embraced a similar mindset. When I was coming up within the company, none—and I mean none—of my superiors at the time ever showed any sort of predisposition to men nor an interest in female suppression, and so I was fortunate that I never felt as though there was a glass ceiling I could not break. I know that is not the case for many of my female colleagues in the industry, and as such, I think this speaks volumes for what we have built at Schellman & Company over the last 20 years. There was never a thought that my promotion was a "token"—after all, when I became the first female principal here, that same male president who promoted me went on to promote another woman to succeed him as president while also elevating several other proficient women to serve as principals and leaders of the firm.
Still, the situation at Schellman can still be considered unique, as the gender disconnect in the workforce remains ingrained in much of society. Most women feel as though they have to work harder than men, have to be smarter than men, and have to speak up more while somehow balancing that confidence in a way that cannot be construed as bitter or ruthless. There remains a perception that when a man takes charge, he is "bold," but when a woman does, she is usually considered "arrogant"—where men are allowed to misstep, women are not so afforded the audacity to make mistakes. Especially in positions of leadership, we often start with having to prove our worth and "innocence" from all those bad connotations. The journey to even the scales and abolish those perceptions is one we all remain on—men and women alike—but I have faith that the culture at Schellman can also be cultivated elsewhere, creating opportunities for more capable women to help progress our industry for all of us.
"With our unique perspective on the job and on life itself, women possess great natural qualities to lead and enrich the business approach of organizations everywhere"
It is true that anyone in a position of leadership should exemplify high standards of ambition, work ethic, expertise, and professional demeanor. It is true that leaders everywhere are the ones that are not afraid to speak up and bring new ideas to the table, just as it is also true that leaders may come in all shapes and sizes—including as women. With our unique perspective on the job and on life itself, women possess great natural qualities to lead and enrich the business approach of organizations everywhere—something that I can personally attest to having seen in action at Schellman. These capable women exist all over, and their having a real, respected seat at the table can only help the greater picture. So, to those ladies working their way up the ladder, I say believe in your qualities and consider seriously your opportunities to advance. Trust in your value, and those of us with established internal and external influence will help you to be heard as you rise up and follow in our footsteps.